Welcome to euIRC!
Whether you already know euIRC or if you like to get to know it - we hope you can find what you are searching for on our website and would like to wish you a lot of fun with chatting on euIRC!

The euIRC Team
Latest news
We did a small update to rbx.fr today, because we want to test a feature that we call "ssl on demand". It allows us to use the same port for normal an ...

Read news ...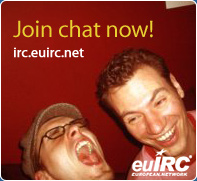 Here you can find some selected channels on euIRC.